We are an independent family-run business and since 2003 have worked in partnership with a young entrepreneur in Vietnam who runs her own family business. This enterprising and resourceful woman has her own team of talented, largely female lead technicians. Unable to visit recently due to the pandemic, we are in constant daily touch with our partner in Vietnam and are confident that:
No young children work in the manufacture of our products;
We pay a full and fair price for our products agreed in discussion with our Vietnamese partner who, in turn, ensures a fair wage and good working conditions for their workers. We have purposefully avoided the 'designer' image and price tag for our products and have always tried to balance a sustainable income for our workers with an affordably priced product for the retailer;
All our pieces are hand-made mainly by women, working in small villages either in small, clean, brightly lit and well ventilated, safe workshops or at home so that they can work according to their own and their families' needs. Many workers come from rural rice farming communities where poverty is widespread. Working with Lua enables them to combine their farming obligations with a valuable additional source of income. The work is flexible so they are able to learn new tailoring skills and continue with their education if required and, are also able to have time off for family commitments. Training is provided on the job in the workshop for the first two years to develop skills and experience. Higher rates are paid to the women who progress to more skilled work such as pattern cutting and embroidery. The workers are paid sick leave and, health insurance is provided for older workers. Bonuses are paid after each season and, in summer, a holiday to the beach is organised by our main partner for all the workers and their families. The regular work provided enables women from disadvantaged backgrounds to improve their families' living conditions and to send their children to higher education;
The workshops are fully compliant with local regulations – working conditions, health and safety practices, salary levels/insurance, etc – and are inspected regularly at local level;
The workers who make our products are happy with their work and pay and consequently more than 30 women at the core of the team have been making our products for more than 19 years!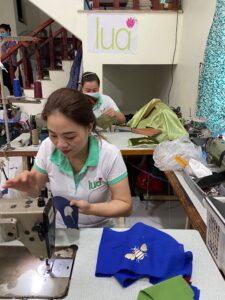 Charities we support
We are in our 4th year of collaborating with the wonderful organisation Rewilding Britain a percentage of sales on key wildlife themed ranges each season goes towards their vital work aiming to return large parts of the UK back to its natural state and encouraging the return of wildlife. For more information, please visit www.rewilding.org.uk
Since 2010, we are proud to have given an annual contribution to the work of the Kianh Foundation, a small grass-roots charity based in the UK which addresses the drastic need for improved health and education services for disabled children and adults living in the Quang Nam province of Central Vietnam – an area heavily bombed during the war. Lua sponsors the education and daily care of Ouy, a 13 year boy with Cerebral Palsy who attends the Dien Ban Day Centre. Ouy is happy and loving life at the school. The children were recently taken on a trip to a resort in South Vietnam (2021), the first time many have been away from home. He is building new relationships, making friends, and his speech and confidence are improving. For more information, please visit www.kianh.org.uk
We try to reduce waste by:
Packing the majority of our products in multiples of 2 to reduce packaging;
Using recycled boxes to ship our products;
Repairing faulty items to be re-sold;
Donating large quantities of surplus fabrics to people in poorer areas in the mountains of North Vietnam. In collaboration with Buddhist monks in the areas of Yen Bai province and Son La, more than 500m of fabric was taken by our technicians and distributed as blankets during 2020/2021. View Story Here
If you have any suggestions on ways we can improve and deliver products with a conscience, please do get in touch – info@luawholesale.co.uk